TRAVELER'S COMPANY x B-Sides & Rarities: Washable Paper Refill
Original price
MYR 28.20
-
Original price
MYR 34.00
Delivery time
Order today and we'll ship your parcel within the next 2 - 4 working days.
Back in the days of vinyl records, artists used to release their hit singles on 7-inch 45 rpm records. These caused a boom in the pop music scene as they made music more accessible to the average person.
Vinyl singles had an A-side and a B-side. The A-side was for the song the artist was hoping would be a hit, and artists poured all of their efforts into this song. B-sides were often considered bonus tracks, and musicians were less concerned about their commercial prospects. This did not mean no effort was made; rather, musicians saw these tracks as an opportunity for more artistic freedom. Sometimes they would experiment with new styles of music; other times they would cover songs they liked. There were times when this paid off so well that the B-side became more of a hit than the A-side, or developed a cult following. It is now common for long-running musicians to release albums of "B-Sides & Rarities".
 It has now been 15 years since TRAVELER'S notebook was first released. In those 15 years, we have explored all kinds of new styles we ultimately chose not to adopt as permanent products. Sometimes this was because they diverged from the general purpose of a notebook, and sometimes it was because they had only limited uses. But when we put them all together, we have an exciting compilation of new ways to enjoy your TRAVELER'S notebook. So just as musicians release albums of their B-sides and rarities, we've re-released a range of refills that are a little out of the ordinary. Maybe some of them will be B-sides that become a bigger hit than the A-side.
The paper won't disintegrate if it gets wet in the rain or is washed with the laundry
This paper is made from the same material as the laundry paper tag. This paper does not disintegrate when washed, so you can use it for outdoor purposes where rain is a concern, near plants that are watered in gardens or on farms, or in areas such as the kitchen or bathroom. And you never have to worry about what will happen if you accidentally leave it in your pocket when doing the laundry!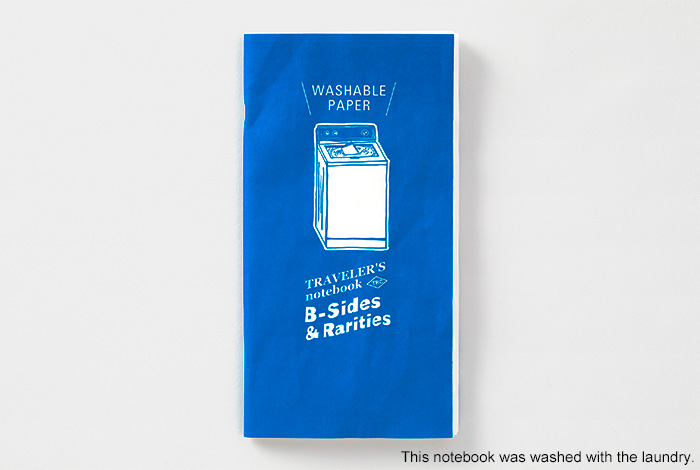 This notebook was actually washed in a washing machine. The paper is wrinkled like a freshly washed shirt, but you can still use it as a notebook.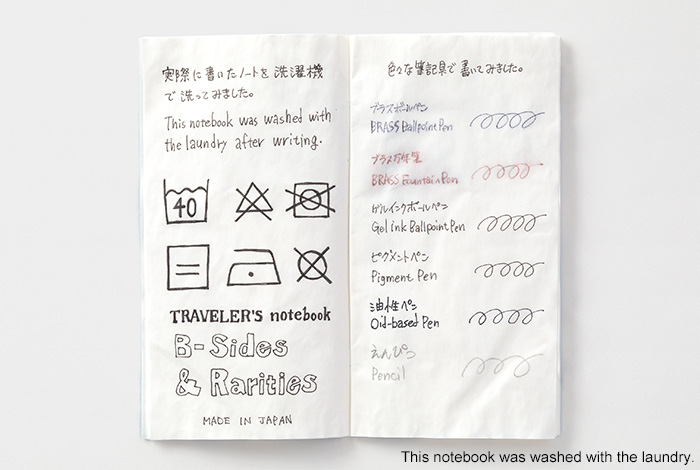 This page is washed after writing in notebooks with various writing instruments. The colors fade with water-based dye inks, but with pigmented inks, they hardly seem to come off even after washing.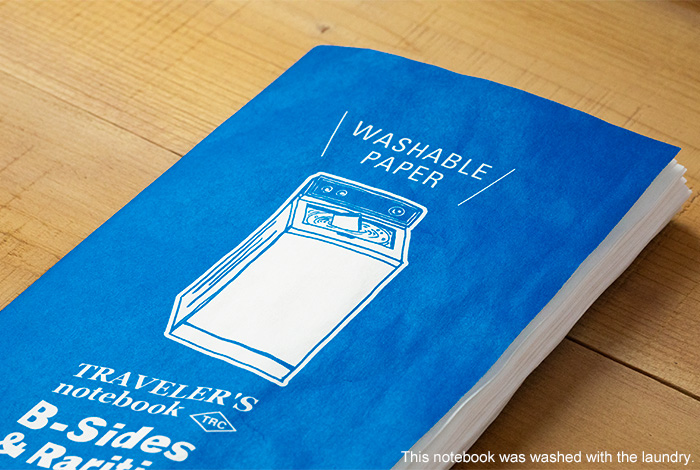 Blank, 48 pages, Washable Paper (Saddle Stitched)
Regular: H210 x W110 x D3mm
Passport: H124 x W89 x D3mm

MADE IN JAPAN

For more goodies from the TRAVELER'S Company; https://www.stickerrificstore.com/collections/travelers-company