SUNNY Log Note - Collect, Write & Review Planner
Original price
MYR 89.80
-
Original price
MYR 89.80
Delivery time
Order today and we'll ship your parcel within the next 2 - 4 working days.
A log note that makes you sunny with three layouts
This planner encourages the organization of feelings and thoughts in three formats: "collect, write, and reflect". Recommended for "people who want to start a diary but feel that the intimidated by the blank spaces", "people who want to document the daily events of the day", and "people who want to organize their feelings by journaling and writing".
It is a separate two notebooks; a log notebook that you can write in detail and a small log that you can carry around and write briefly when on the go.
With the DAILY LOG, you can write every day and REVIEWING LOG enables one to look back and reflect on a weekly or monthly basis. Both notebooks are bound with thread binding that opens flat for ease of writing.
DAILY LOG & REVIEWING LOG: A two-part format that allows you to organize and review your day

Dots and grids in a page that can divide the day into two  section. A format that makes it easy to write different contents such as events + summaries and diaries + illustrations. Recommended for organizing your thoughts and feelings.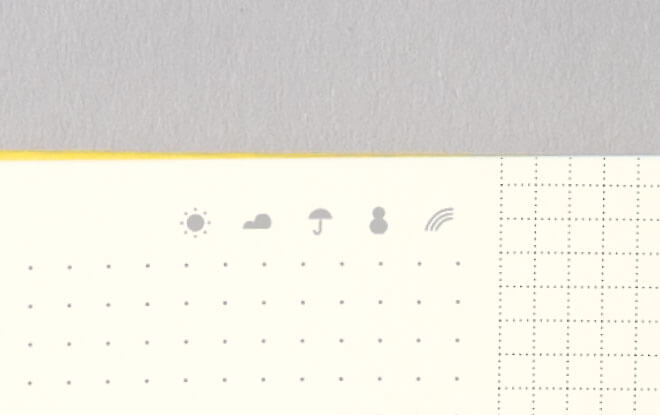 SUNNY original weather indicator. Look up at the sky every day and refresh your feelings. Can also be used as a mood tracker alternatively.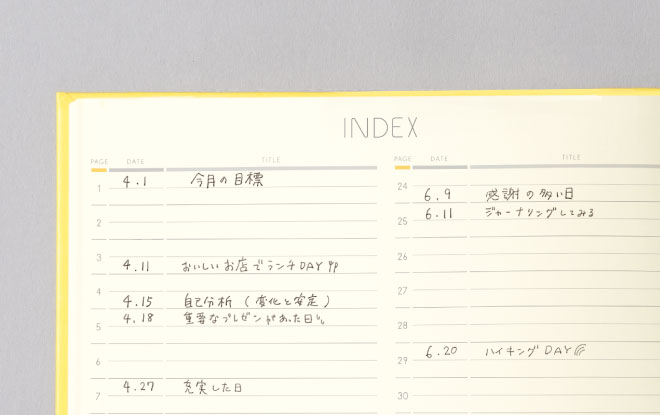 INDEX pages are included at the beginning of the DAILY LOG notebook. An index page that can be used as a "table of contents" for convenience when you look back at a later date. 
The REVIEWING LOG is used to see how well you have achieved your goals on a weekly basis. Not only how much you have done, but also motivation to write a word about your next goal and reflection!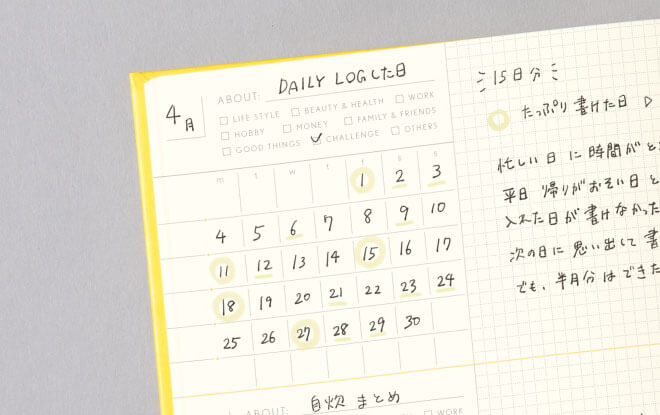 Free calendar format - You can create calendars and tables on a monthly or weekly basis. Get a bird's-eye view of long-term logs such as sleep time and meal records.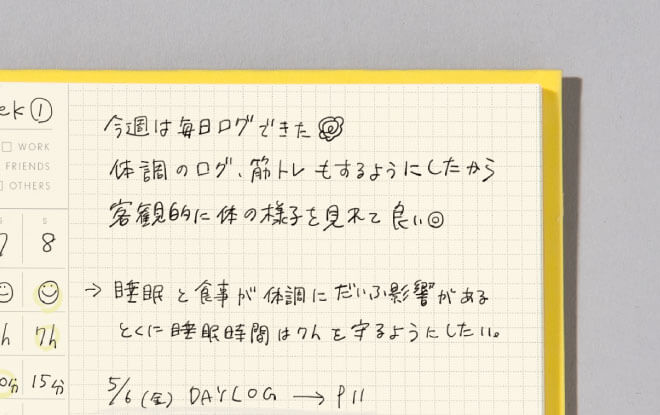 Easy-to-use 2.5 mm grid. A grid of a size that makes it easy to write figures and tables. It is also recommended to extend the calendar and look back on the week.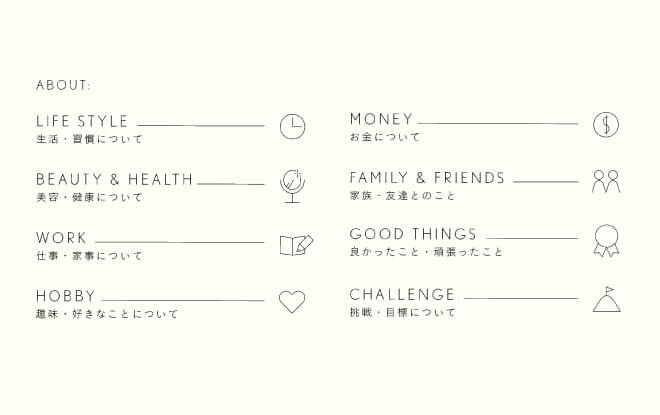 To keep things precise and interesting, you can opt to use icons to indicate or represent certain activity/aspect of life.
The key feature of SUNNY LOG NOTE is that it comes with a separate booklet called SMALL LOG!
Aside from the main notebook diary, you can carry this slim notebook with you and feel free to document your findings and discoveries at any given time.
It's nice to be able to write down good ideas and unexpected ideas when you go out because you can easily fill in without lugging a heavy notebook around.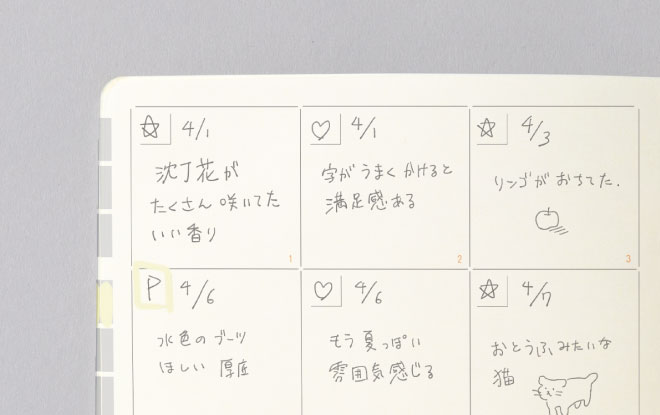 These small frames that allow you to briefly write small notes and doodle small illustrations.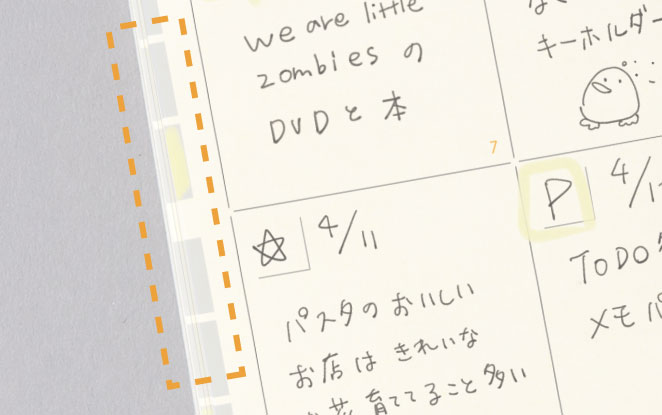 You can easily find and mark your favorite logs and pages you want to look back at a later time.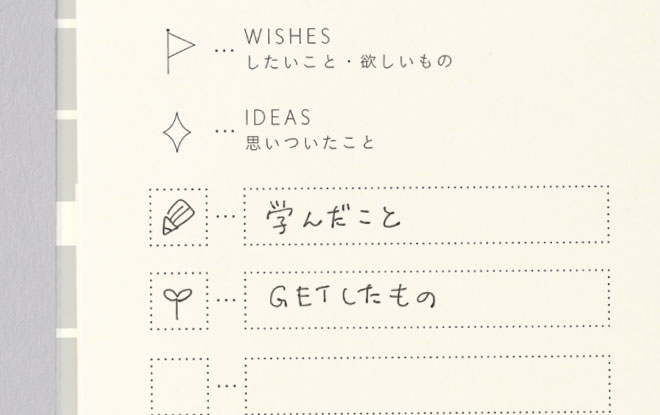 Index your often used icons - You can easily classify by genre using the suggested icons or if have an icon that you often use, record it down for reference. 
set content

DAILY LOG & REVIEWING LOG x 1




SMALL LOG x 1




How to use booklet x 1

size

DAILY LOG & REVIEWING LOG: Length 210mm Width 147mm Thickness 10.5mm




SMALL LOG: Length 182mm Width 118mm Thickness 3mm

specification

DAILY LOG & REVIEWING LOG: Top binding, rubber band




SMALL LOG: Thread binding binding

page number

DAILY LOG & REVIEWING LOG: 112 pages




SMALL LOG: 32 pages

material

DAILY LOG & REVIEWING LOG: Paper, Rubber




SMALL LOG: Paper

Country of origin

Japan