Kodomo No Kao Self Inking Stamp: KO NO IRO Stamp
Original price
MYR 58.90
-
Original price
MYR 58.90
Delivery time
Order today and we'll ship your parcel within the next 2 - 4 working days.
The KO NO IRO self inking stamp from Kodomo No Kao comes with a frame design that is great for message cards, labels and journaling.
These stamps come blank, without ink and you can customize your own color combination from a selection of 14 colors with the KO NO IRO series inks! A needle tip nozzle will be included with each refill for easy of application of ink onto the stamp surface with your favorite color combination!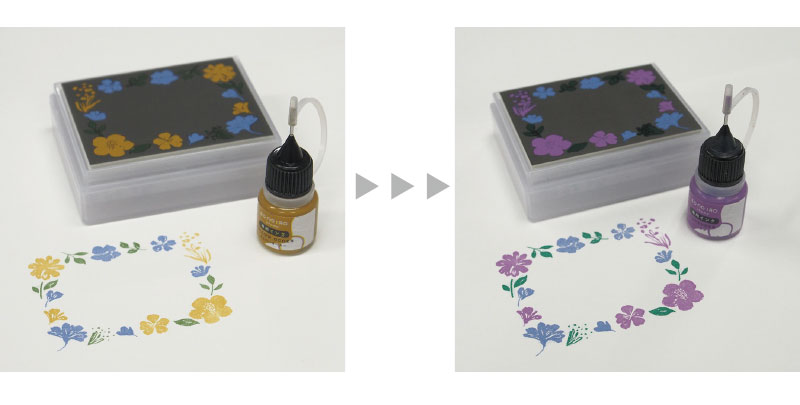 Once you are bored with the color combination or when the ink runs dry and would like to change it up with a new combination of colors, repeat the same steps with a new ink color refill. Upon application of the new color, the stamp will quickly reflect the new combination and you can do this multiple times without mixing the ink.
Needless to say, this stamp is reusable and the combination is limitless with the number of color refills available to choose from.
How to use

Apply ink along the pattern like you would on a coloring book.
Make sure that the ink is firmly on the pattern, and wait about 10 minutes until the surface becomes matte.
Lightly press with a tissue paper to remove any excess ink.
Stamp several times on a piece of scrap paper until the ink is distributed evenly and until the lines appear sharp and crisp
To change color
Stamp several times on a piece of scrap paper until the current ink is drained/cleared up.
Repeat the steps above.
specification

Package: 130 x 120 mm, height 32 mm
Body: 75 x 60 mm, height 30 mm
Stamp size: 64 x 49 mm

*Ink refill not included

material

Holder: ABS, Stamp face: Silicon

add on

2 plain label stickers

origin

made in china
Produced by 
Kodomo No Kao