TRAVELER'S COMPANY Brass Ballpoint Pen
Original price
MYR 7.80
-
Original price
MYR 145.60
Delivery time
Order today and we'll ship your parcel within the next 2 - 4 working days.
This is a pen made in a press factory located in one of the historical districts of Tokyo. This product consists of two parts, the brass made holder and the actual pen. When this is not used, the pen fits inside the holder, achieving a high level of portability. This portability makes the item serve as a great partner for a traveler. At first, the brass releases a golden color, but through its use, the surface starts to oxidize and the color becomes profound.
The brass ballpoint pen does not require an eraser, so we added a ring so that one can customize the pen with a string or a hook. By doing so, you can carry this around like a key holder and hang it on your backpack or belt. 

Through its use, the surface starts to oxidize, and this deepens the color and adds taste to the material. Besides, there may be slight scratches as the surface is not plated to enjoy the texture of brass and change as it ages. By a long time use the change in color lessen the concern.
And this pen has a clip and cap with the distinctive texture of iron, to match with aged brass color. It may look like stain or uneven surface. By a long time use the change in color lessen the concern, too.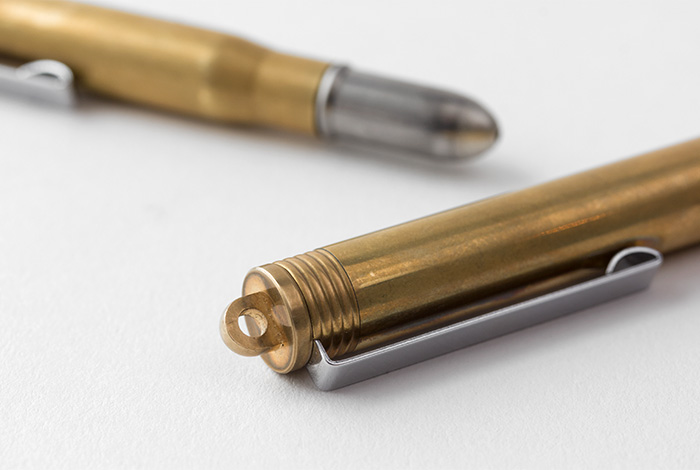 Package / in PET case, H145 x W37 x D22mm
BRASS Ball-point pen / 11mm in diameter x H97mm (
ink: black / refill
, Auto No. 705NP)
When exchanging the refill, turn the pen tip and remove the finished refill.
Please insert a new refill and close the pen tip.

MADE IN JAPAN
----------
ABOUT BRASS PRODUCTS
BRASS changes its color and texture as you use it, and every single BRASS item changes differently depending on the user and his/her environment. This is something unique to and wonderful about brass. As the copper within the brass oxidizes, your brass item might develop some verdigris, a kind of rust. Take it easy, since it does no harm to you. If you want the original gloss of the brass back, just try polishing the item with metal polish. Enjoy and cherish the highly nuanced color hue and texture only brass can give you.