J.Herbin 350th Anniversary Vert Atlantide Ink
Sold out
Original price
MYR 95.00
-
Original price
MYR 95.00
Delivery time
Order today and we'll ship your parcel within the next 2 - 4 working days.
The exclusive 1798 ink collection celebrates the year Jacques Herbin first introduced his own line of quality inks, an important step in the history of the brand. Deep unsaturated colors with optimal pressure sensitivity, 1798 Inks are illuminated with shimmering flecks of silver for an elegant finish.
Exclusively available as part of the Jacques Herbin collection, the 50ml bottle of 350th anniversary Vert Atlantide fountain pen ink is an intense, dark green colour, illuminated with silver and gold glitter for a unique sparkle.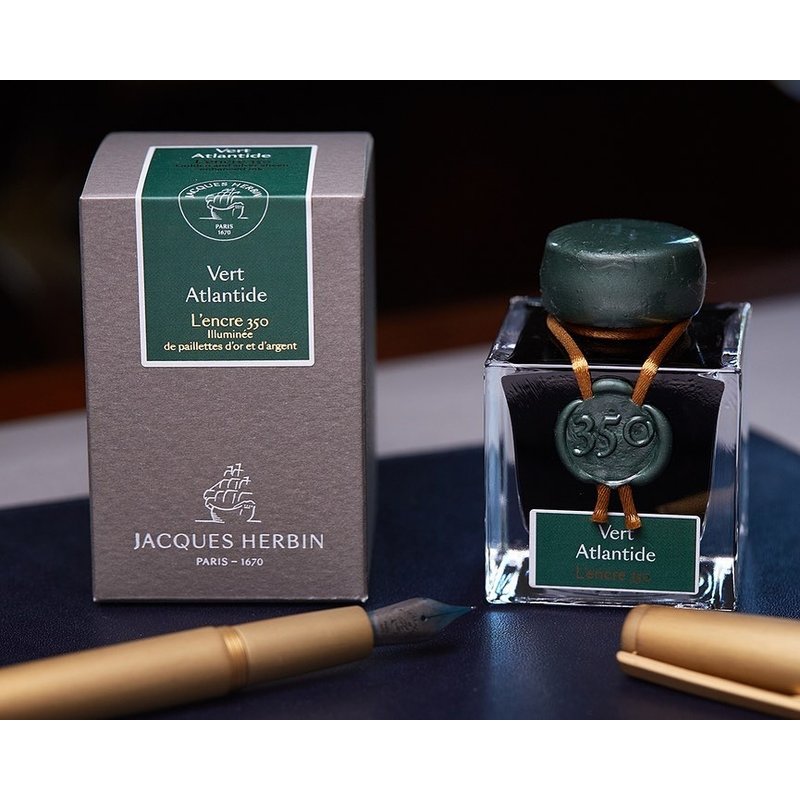 Inspired by the lush plant life said to have inhabited the fabled continent of Atlantis, Vert Atlantide is a tribute to the brand's founder, Jacques Herbin. An esteemed navigator, Herbin was believed to have been enthralled by the legend of this lost civilization. Vert Atlantide was chosen in 2020 by pen and ink aficionados from across the globe to commemorate the 350th anniversary of the Jacques Herbin brand; the oldest name in ink in the world.
Presented in an elegant 50ml glass bottle with seal and wide-neck opening perfect for filling fountain pens from.
Gold and silver flake, being a solid residue, will sink to the bottle of the bottle if unused - simply shake well to rejuvenate. Due to the sedimentary nature of this product we do not recommend you leave in your fountain pen for prolonged periods of non-use and do not recommend for use in vintage fountain pens with fine feed systems.
---
Due to the amount of particulate in this ink used to achieve the sparking look, you may experience restricted ink flow in some of your pens. We recommend shaking the ink thoroughly before filling and gently rolling the pen in your hands often to keep the shimmer effect consistent. This will also help prevent clogging. You will also want to be diligent about cleaning and maintaining your pen when using this ink. 

If your pen is inactive for a while, we recommend you might want to empty and clean it.