2024 Otsuki-kun - Desk Calendar
Original price
MYR 52.00
-
Original price
MYR 52.00
Delivery time
Order today and we'll ship your parcel within the next 2 - 4 working days.
This is a calendar where you can enjoy the phases of the moon and the seasons with Calendar Life's character "Otsuki-kun".
Tsuki-kun loves living close to nature, living things, and the seasons, and shows various expressions according to the waxing and waning of the moon.

If you listen to the changing seasons, you may notice changes in nature that you would normally overlook, and your heart may become a little richer.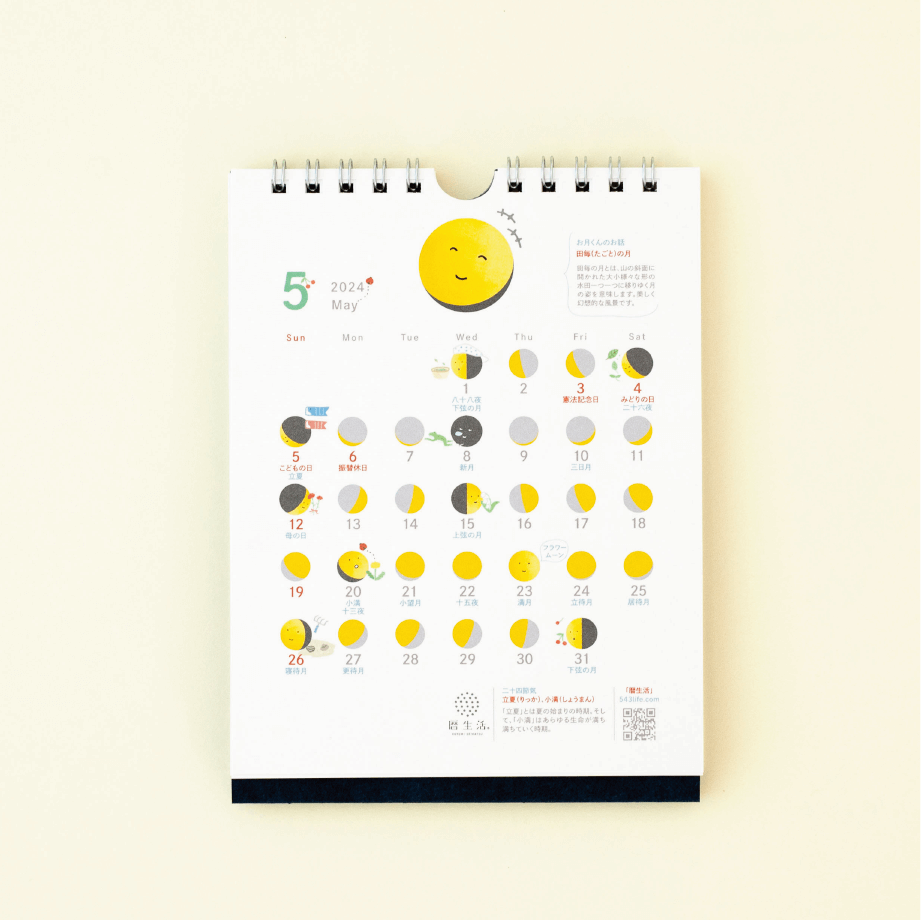 z


Otsuki-kun will show you various expressions every month while enjoying the 24 solar terms, seasonal events, and seasonal foods. Please take a look at the nature around you and enjoy seasonal events with Otsuki-kun.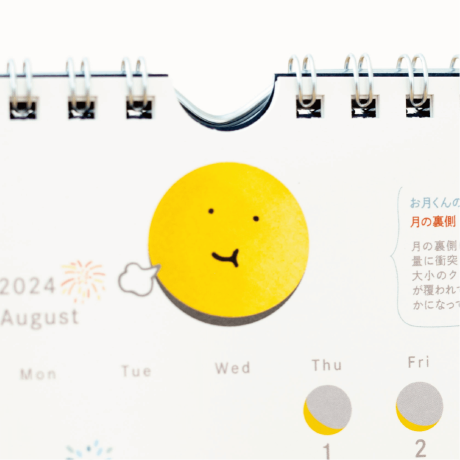 In the mini-column, Otsuki-kun will explain in an easy-to-understand manner the ``Otsuki-kun's story'' and the ``24 solar terms'' related to the moon.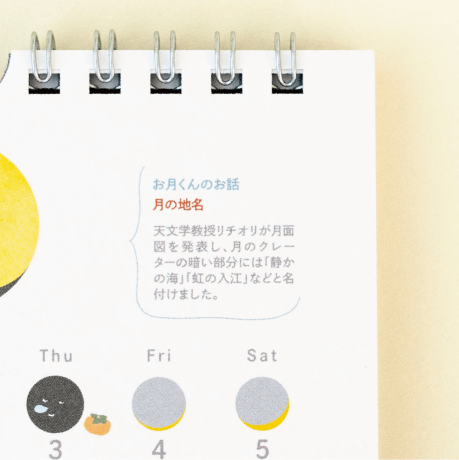 On full moons, new moons, waxing moons, waning moons, sleeping moons, and days when there are 24 solar terms or events, Otsuki-kun pops out.
Please take a look at the playful Tsuki-kun, who enjoys the season by drawing pictures and eating roasted sweet potatoes.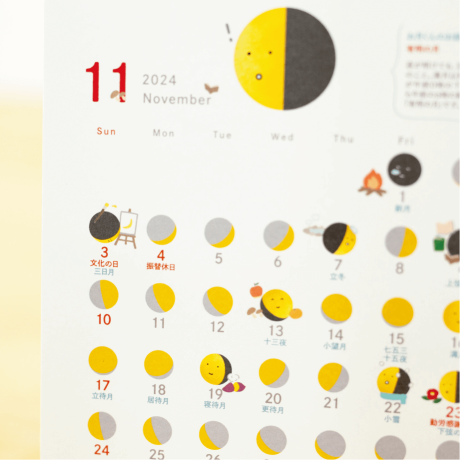 Introducing the "month name" for that day
The moon is given beautiful and tasteful names depending on its appearance at the time. The month's name is listed in the moon calendar.

You can learn the name of the moon on that day, such as the well-known ``crescent moon'', ``new moon'', ``tachimachizuki'', and ``fukemachizuki''. can.
Once you know its name, you will love the moon you look up at every day.


"Full moon names" also included
Native American people are said to have understood the seasons by naming each full moon according to that time of year.
Every month, we publish attractive moon names that are slightly different from the unique Japanese moon names.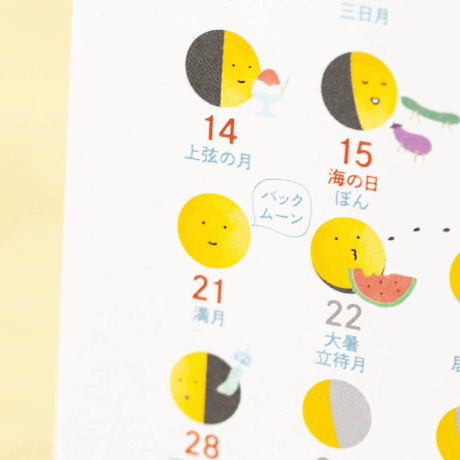 Comes with a QR code that allows you to enjoy articles about calendar life
From the QR code, you can access the "Calendar Life" site, where you can learn about seasonal columns and the calendar every day. Please take a look.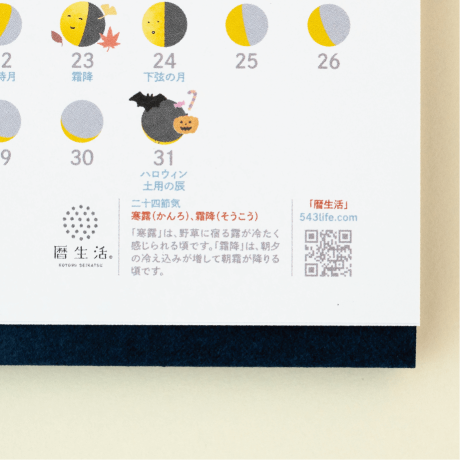 We also have a wall-mounted version on sale that allows you to write a lot.
Why not spend a year enjoying the seasons with Otsuki-kun?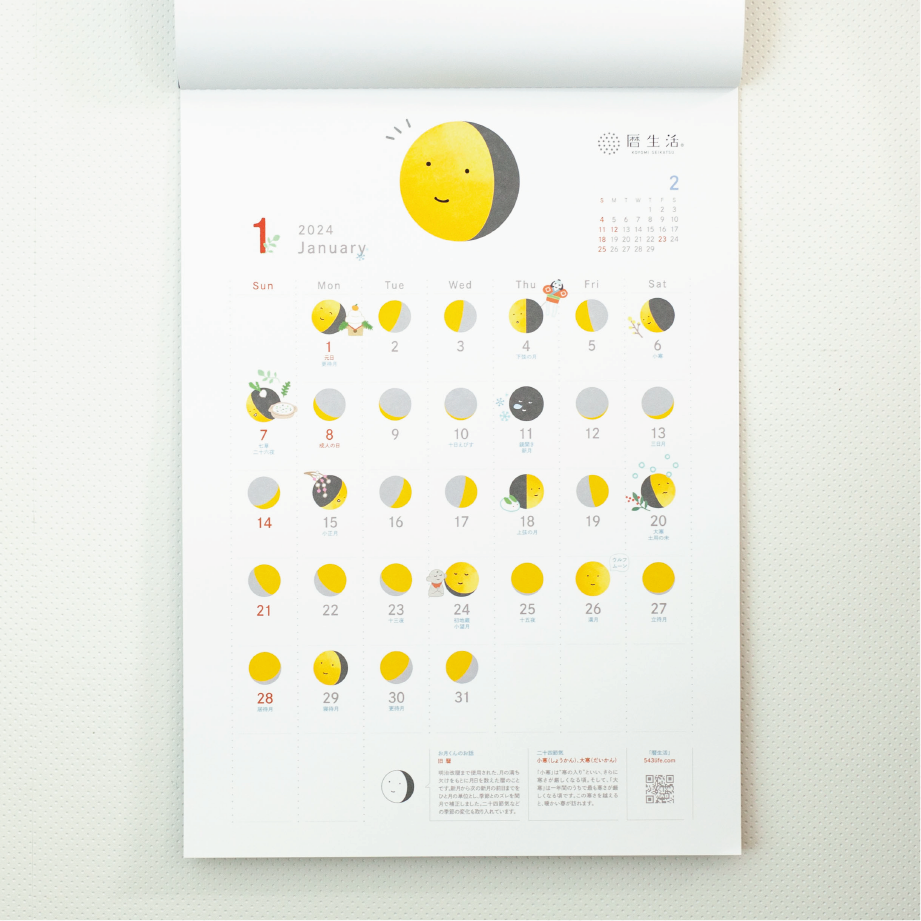 Size: H180 x W132mm
13 sheets spelling
W ring binding
Made in Japan