2023 SPRING Hobonichi Techo Planner Set (A6 Size) // Eri Shimatsuka: Hedelmäpuu
Original price
MYR 293.90
-
Original price
MYR 293.90
Delivery time
Order today and we'll ship your parcel within the next 2 - 4 working days.
The cover within this listing comes packaged with the Hobonichi Techo 2023 Spring Planner Book (A6 Size) which is the April-start version and covers April 2023 up to March 2024 in Japanese language.
This cover features a design by the textile designer and illustrator Eri Shimatsuka, who lives in Finland.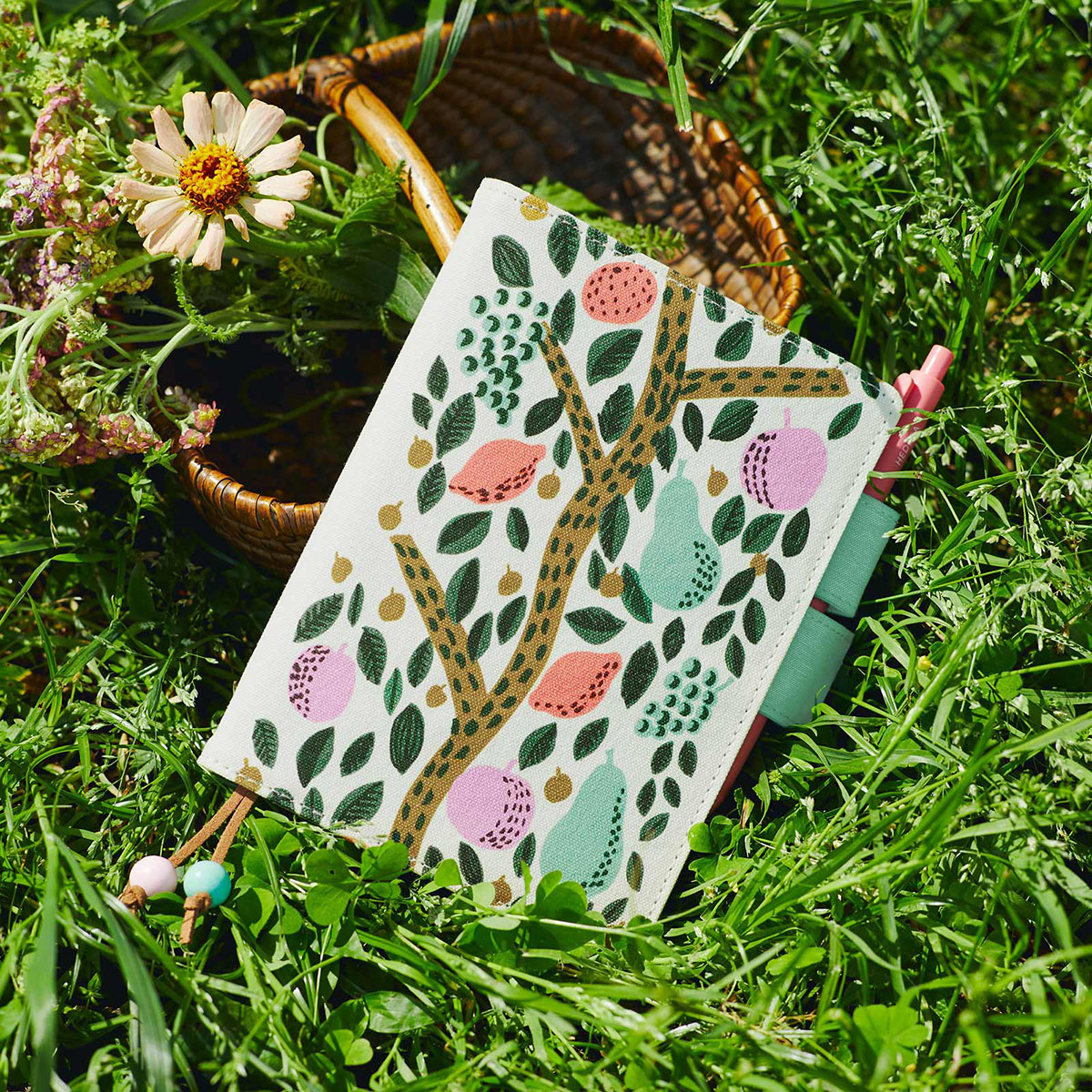 Her designs evoke the warm, gentle view toward nature that comes from spending everyday life amid Finland's lush greenery. Hedelmäpuu is Finnish for "fruit tree," and a fruit tree filled with fruits and nuts is the centerpiece of this design.

The first thing that pops out on this design is the cute array of fruits in green, pink, and orange. The grapes and small tree nuts are also so filled out that they seem like they could fall off the tree at any moment. The effect is fun and lively, creating a cover that exudes the feeling of the life force of trees.

The illustration is printed on a canvas fabric whose natural coloring evokes the gentleness of nature.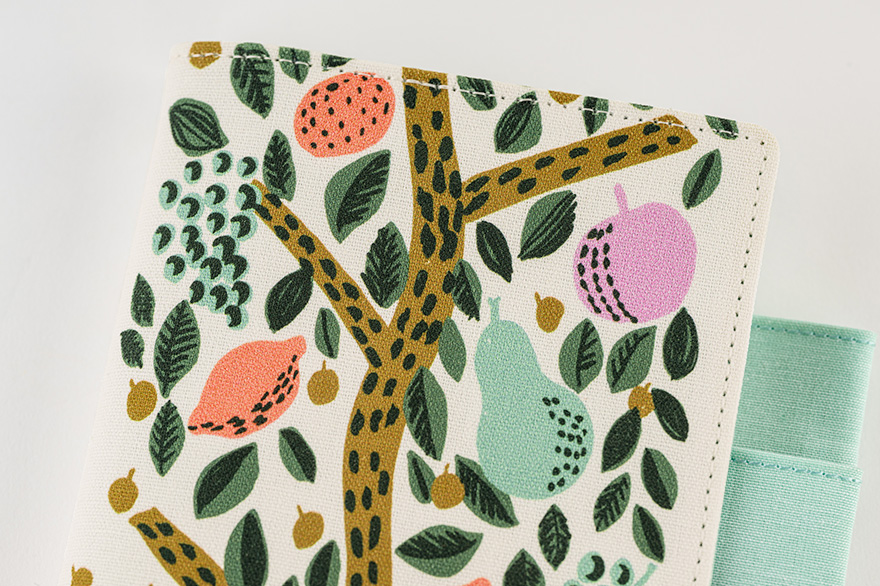 This design's details, such as the leaves painted in two different shades of green and the grapes with spots of light and shade, give it a deeply expressive look.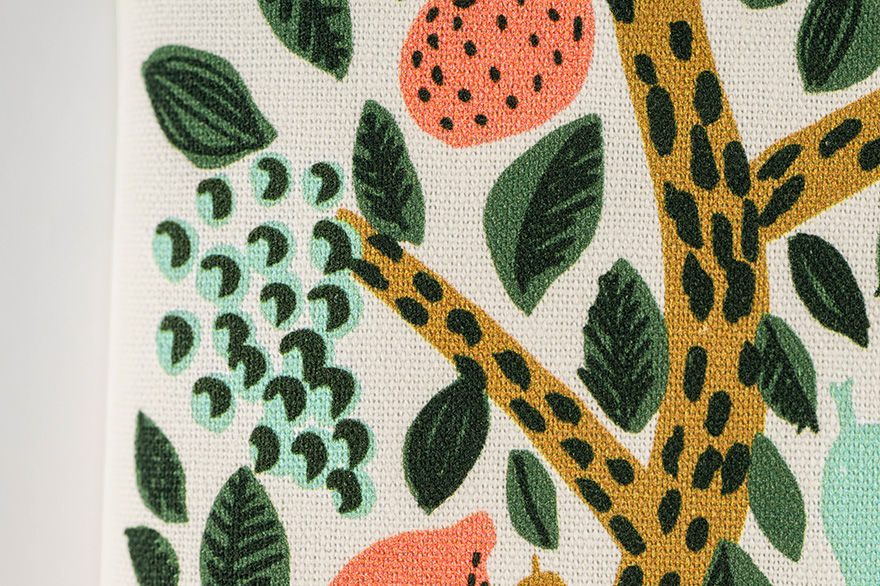 The pocket on the back of the cover also has illustrations of green and pink fruit.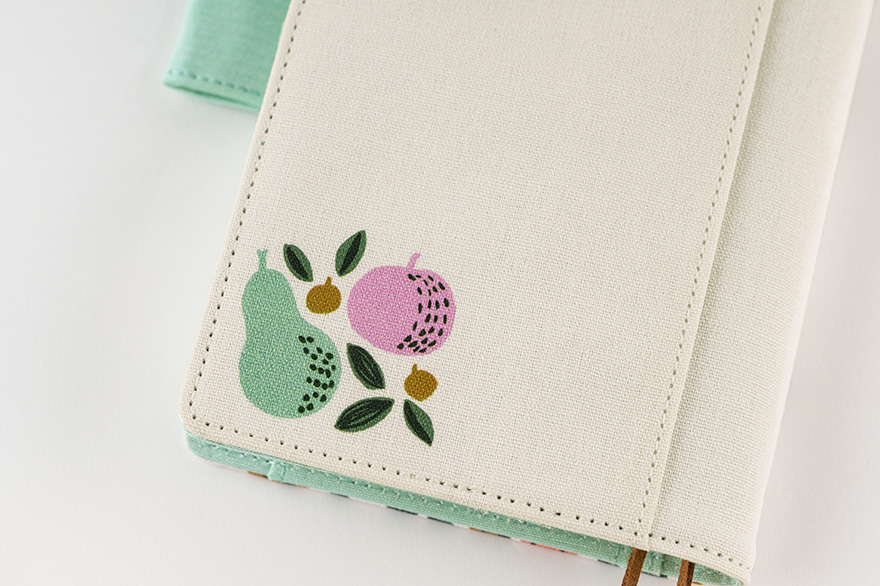 The bookmarks are brown like the trunk of a tree, and the round light-pink and green charms are reminiscent of tree nuts.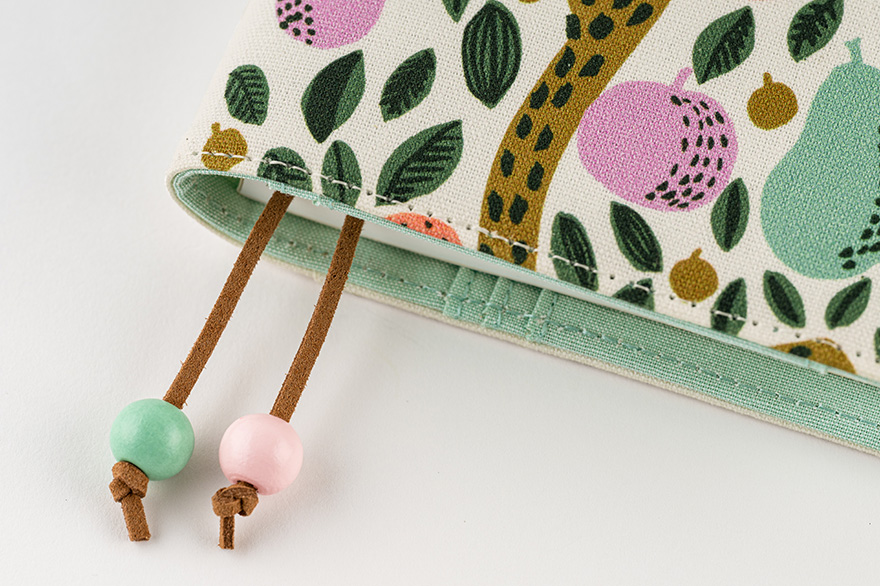 We hope your days are lively and fun when you spend them with this cover, infused with the loveliness and freshness of fruits and nuts.
Sold separately is the PVC Cover on Cover for selected covers. In addition to protecting your cover from wear and tear, the Cover on Cover is a great place to store postcards, pictures, and other decorations to customize your cover at any time.

Cover Size: H: 165 x W: 244 x T: 3 mm
Notebook Size: H: 148 x W: 105 x T: 14 mm
Language: Japanese
Pages: 464 pages
Daily Pages: Apr. 1, 2023 - Mar. 31, 2024 (378 pages))
Yearly Index: Feb. 2023 - May. 2024 (8 pages)
Monthly Calendar  Feb. 2023 - May. 2024 (32 pages)
Grid Size: 3.7 mm

Note: The Hobonichi Techo's Tomoe River paper is designed to prevent bleed-through, but some fountain pens and water-based ink pens are not compatible with this paper. When switching to a new pen, we recommend testing the pen somewhere in the book, such as the back memo pages, to see if the ink bleeds through or takes an especially long time to dry.

For the full collection of Hobonichi items; https://www.stickerrificstore.com/collections/hobonichi