2023 Hobonichi Techo Planner Set (Cousin A5 Size) // Malhia Kent: Pêche Tweed
Original price
MYR 878.90
-
Original price
MYR 878.90
Delivery time
Order today and we'll ship your parcel within the next 2 - 4 working days.
The cover within this listing comes packaged with the 2023 English Cousin Book (A5 Size)
This lavish Zippers cover uses fabric by the renowned fancy tweed maker Malhia Kent. It returns to this year's lineup with a different textile after a popular debut in the 2022 lineup.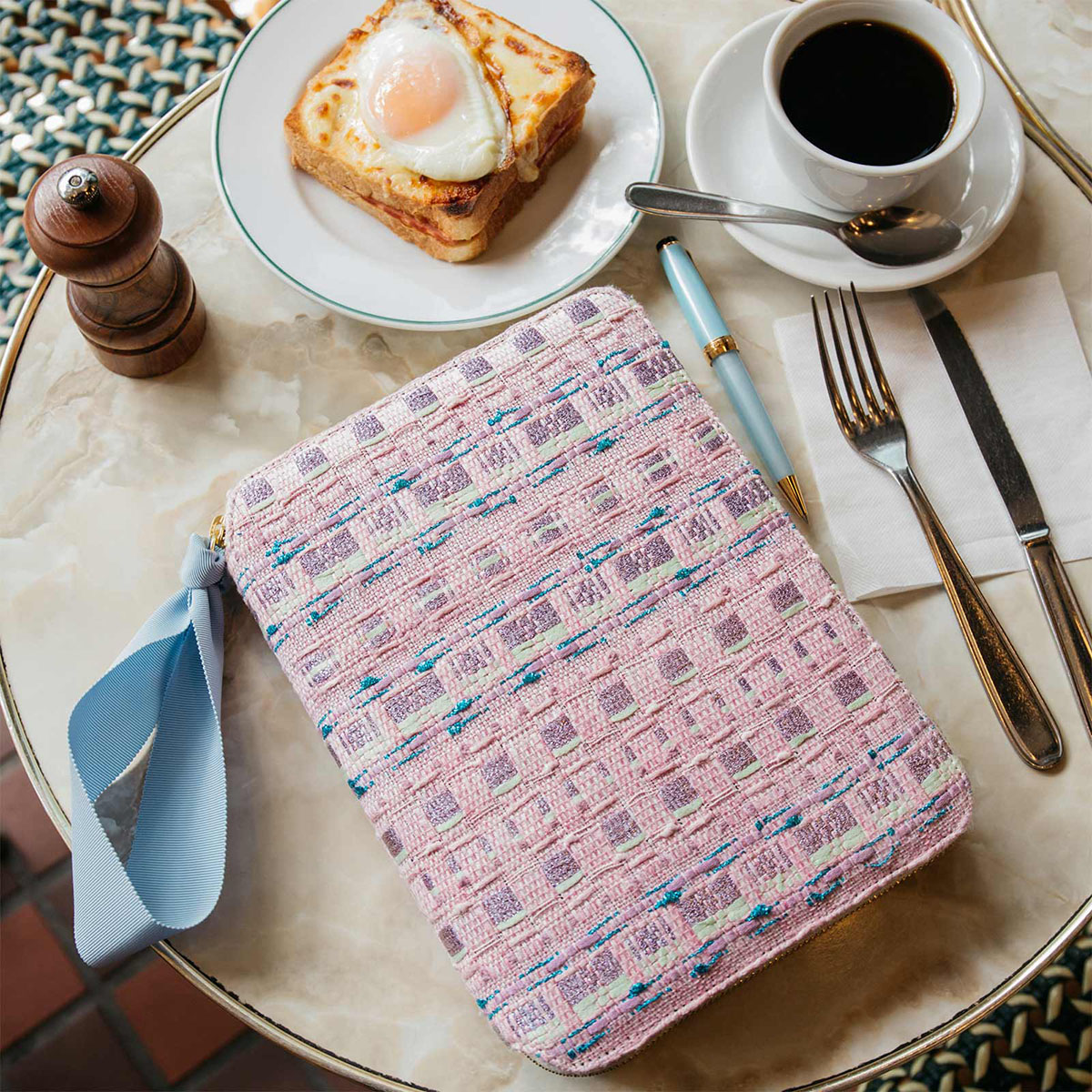 The gorgeous, eye-catching tweed intertwines threads in various materials and colors, some extra wide and coarse to the touch, to create a beautiful look.

A collection of threads with varying color gradations, from peach pink to off-white, give the Peche Tweed cover its light pink theme. Sparkling lavender-colored threads stand out from the pink, and glittery blue and light-green threads accent the pattern. Just looking at this cover will leave you feeling at ease.

The colors in Peche Tweed range from peach pink to off-white, with a collection of threads with varying color gradations that give this cover a light pink theme. There are also sparkly lavender-colored threads that stand out, as well as glittery blue and light green threads that provide a nice accent to the pattern. Just looking at this textile will make you feel at ease.

If you look closely, you'll see a great variety in the texture and color of the threads, and even threads with puffy three-dimensional textures or that vary in thickness as they move across the cover. This textile's use of so many different threads contributes to its profound charm.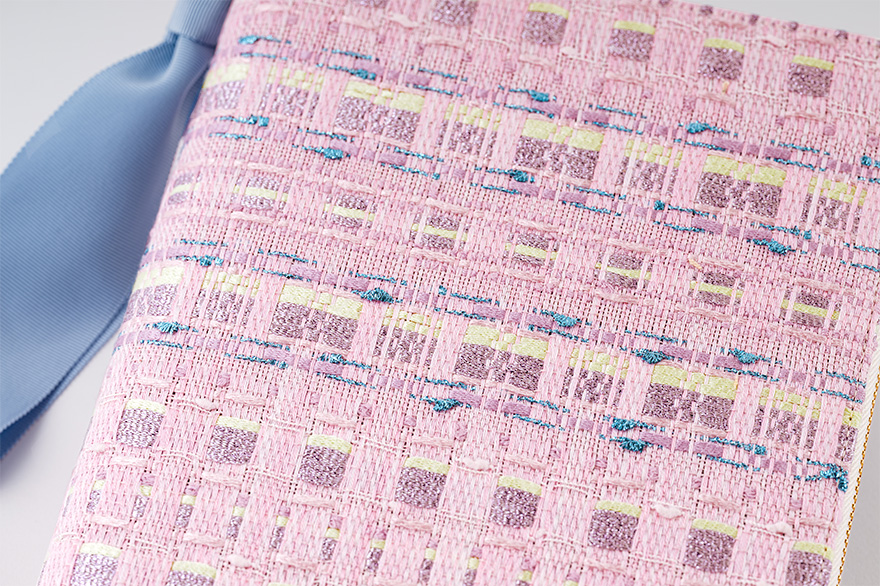 The zipper pull is accented with a wide light-blue grosgrain ribbon that allows you to hold the cover like a clutch bag.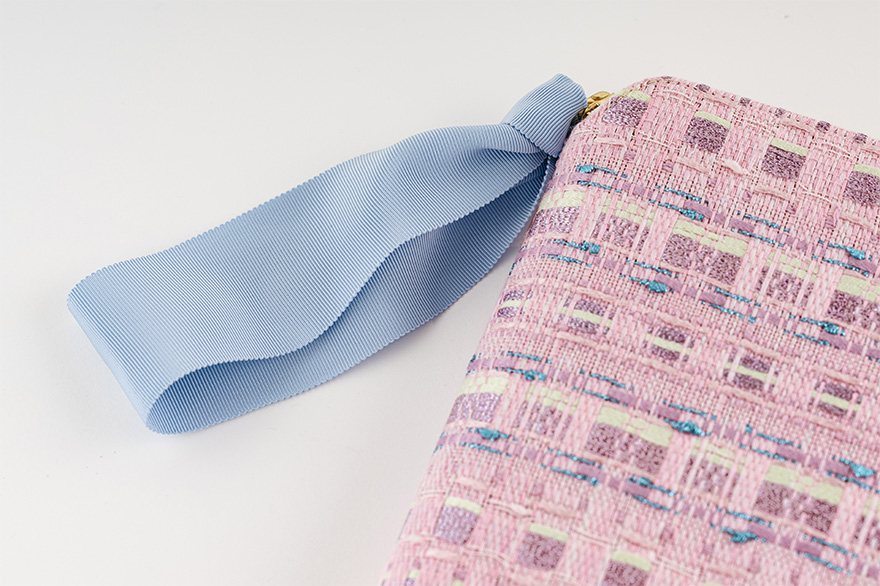 Because the cover uses a tweed with a timeless quality, we chose a natural leather interior so that you can enjoy it for a long time.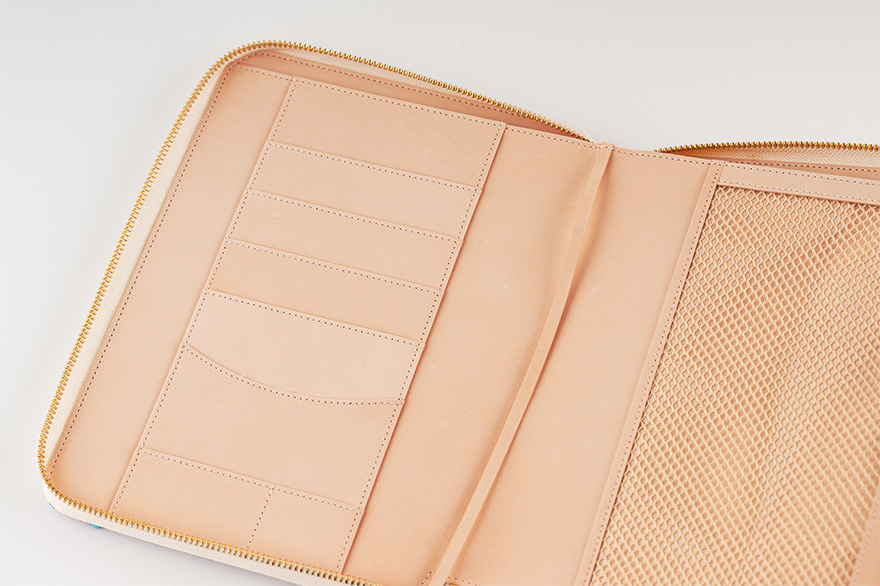 It comes with one bookmark made from the same natural leather. We hope you enjoy the leather as it matures and grows its own sheen.
Cover Size: H: 248 x W: 188 x T: 25 mm
Notebook Size: H: 210 x W: 148 x T: 17 mm
Language: English
Pages: 544 Pages
Daily Pages: Jan. 1 - Dec. 31, 2023 (377 pages)
Weekly Pages Dec. 26, 2021 - Dec 31, 2023 (106 pages)
Grid Size: 3.7 mm
Sold separately is the PVC Cover on Cover for selected covers. In addition to protecting your cover from wear and tear, the Cover on Cover is a great place to store postcards, pictures, and other decorations to customize your cover at any time.

Note: The Hobonichi Techo's Tomoe River paper is designed to prevent bleed-through, but some fountain pens and water-based ink pens are not compatible with this paper. When switching to a new pen, we recommend testing the pen somewhere in the book, such as the back memo pages, to see if the ink bleeds through or takes an especially long time to dry.

For the full collection of Hobonichi items; https://www.stickerrificstore.com/collections/hobonichi