2023 Hobonichi Techo English Book (A5/A6 Size)
Original price
MYR 134.90
-
Original price
MYR 193.90
Delivery time
Order today and we'll ship your parcel within the next 2 - 4 working days.
A6 Size

This original form of the Hobonichi Techo in collaboration with Arts&Science has been loved by many users. The refined layout, the color scheme of charcoal gray and red, and the bonus pages exclusive to the Planner are part of its charm. Its daily pages offer plenty of space to fill despite the book's compact A6 size.
The graph paper offers an open layout for you to neatly lay out writings, clippings, and drawings. The daily quotes (English) also provide users with interesting reading material. The book is designed to be paired with a cover of your choice.
The book has a matte cover subtly engraved with the Japanese characters for "techo" alongside the Arts&Science logo.
A5 Size
The one-page-per-day A5 size Cousin in English was created in response to customer requests for a Hobonichi Techo with more space to fill with writing and clippings. The various calendars and pages are great not only for writing down your plans for the day, but for doodling, pasting event tickets, using as a normal notebook for work or school, and filling in pages with any whims that come to mind.
The Cousin is popular for use as a family notebook, tracking the growth of children and pasting in pictures to create a family album or sharing pages among family members. It's also frequently used as a planner that is always kept on a desktop or table rather than carrying around.

The book contains many useful calendars and schedule-tracking tools, such as the yearly calendar, monthly calendar, and yearly index page.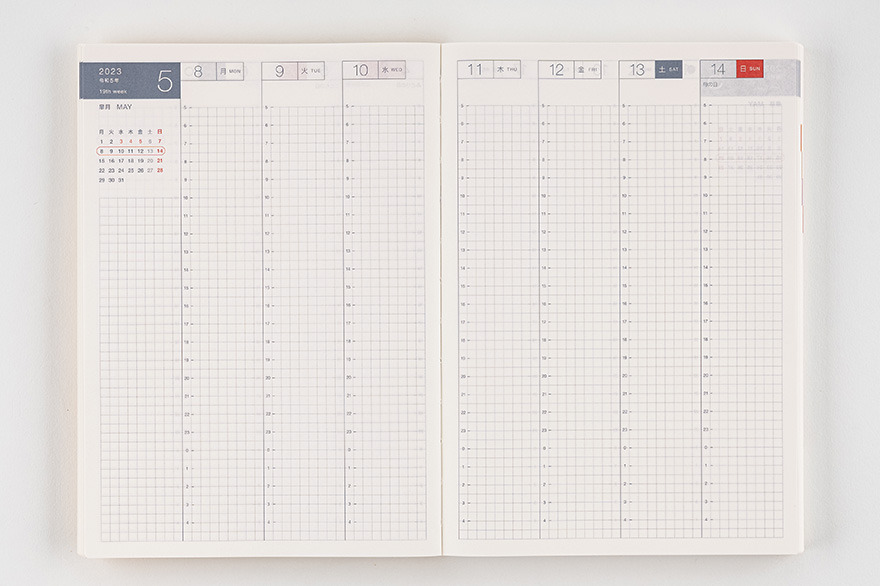 The A5 Cousin also has an exclusive section: the popular weekly pages track a week in each two-page spread for easy planning and contain a handy time schedule.

The back of the book includes bonus pages, including "Addresses," "Graph Paper," "My Favorite Things," "How to Better Enjoy Conversation," "Words to Remember," and "365 Days: Check Off Sheet."

The Hobonichi Techo includes quotes specially chosen from its parent site, the Japanese web magazine Hobo Nikkan Itoi Shinbun. Each daily page has a quote in English.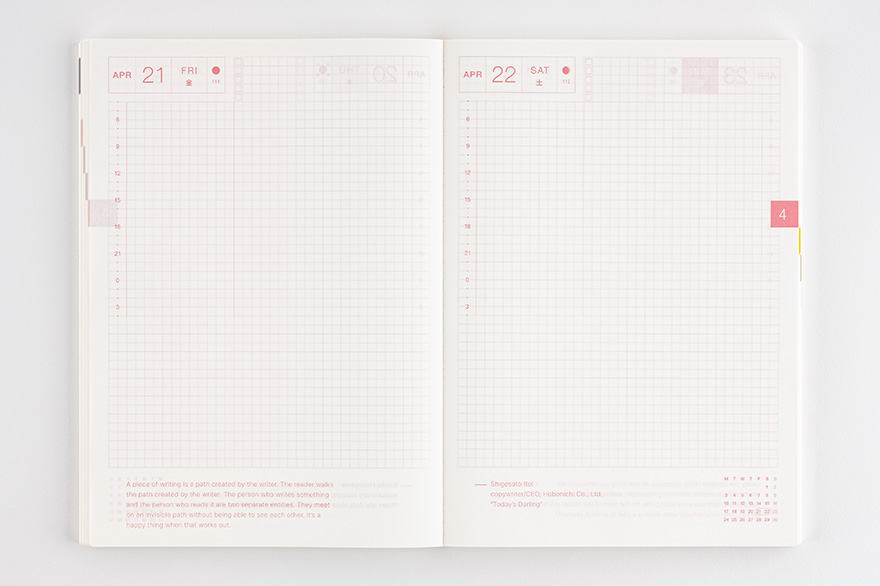 The page design features 3.7mm graph paper, which is sized to accommodate writing in plans or entries, or drawing charts or pictures. The graph paper design allows users to write from any starting point on the page, and the lines have been printed in light colors so users can either customize it to their own layout or ignore it completely.

Both the A6 Original and A5 Cousin is a Monday-start week for the monthly calendar.
Although you can use the book on its own, you can pair it with a cover of your choice from our large selection of convenient A6 and A5 size Hobonichi Techo covers.
Tip: Keep your notebook clean without compromising the appearance with the MIDORI PVC Notebook cover which is sold separately in store.
A6 size: H: 148 x W: 105 x T: 14 mm
A5 size: H: 210 x W: 148 x T: 17 mm
Note: The Hobonichi Techo's Tomoe River paper is designed to prevent bleed-through, but some fountain pens and water-based ink pens are not compatible with this paper. When switching to a new pen, we recommend testing the pen somewhere in the book, such as the back memo pages, to see if the ink bleeds through or takes an especially long time to dry.
For the full collection of Hobonichi items; https://www.stickerrificstore.com/collections/hobonichi